Why do you need to choose Data Analytics as your career
In today's world, all kinds of Business organizations are hiring data analysts for growing amount and range of data they generate and collect. Wringing actionable answers out of data has become a key business skill. All kinds of organizations collect data and want to use it to make or improve decisions.
In real time, Medical industries uses data analytics in clinical study to predict the efficacy of medicines and it's survival rate. Factories are always looking to improve its production — if you can improve yield by at least one or two percent and it means a million of dollars to a drug manufacturer. There is a huge amount of data floating around. What we do with these data is all that matters right now. This is why Data Analytics is in the top priority of business. Big Data Analytics has become crucial as it helps in improving business, decision makings and providing the biggest edge over the competitors.  For professionals, who are skilled in Big data analytics, there is an ocean of opportunities out there.
Why Data Analytics is the Best Career
If you are ready to choose the Data Analytics as your career, here are few reasons for you to choose it out.
1. Demand for data Analytics Professionals
Data is useless without the skill to analyze it. There are many job opportunities in  Data management and Analytics than there were last year and many IT professionals are prepared to invest time and money for the training.
The  bellow job trend graph for Big Data Analytics, from analyticsread.com, proves that there is a growing trend for it and as a result there is a steady increase in the number of job opportunities.
The current demand for qualified data professionals is just the beginning. An analytic expert says that: "In the next few years, the size of the analytics market will evolve to at least one-thirds of the global IT market from the current one-tenths". Technology professionals who are experienced in Data Analytics are in high demand as organizations are looking for ways to exploit the power of Big Data.
2. Data Analyst – Top Priority in a lot of Organizations
According to a data analytics survey, it was concluded that Big Data Analytics is one of the top priorities of the organizations participating in the survey as they believe that  it improves the performances of their organizations.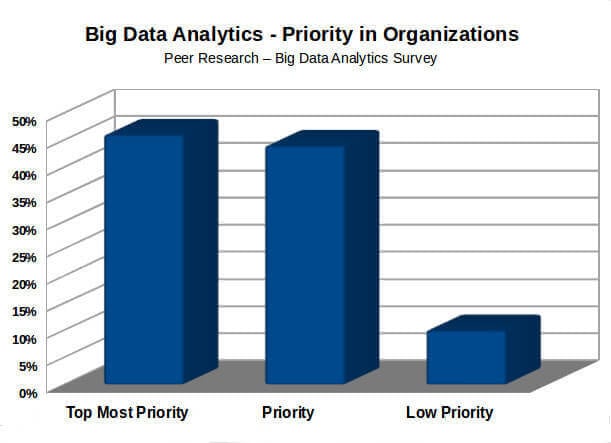 Based on the survey responses, it was found that approx. 45% of the surveyed believe that Big Data analytics will enable much more precise business insights, 38% are looking to use Analytics to recognize sales and market opportunities. More than 60% of the respondents are depending on Big Data Analytics to  boost the organization's social media marketing abilities.
3. Data Analytics: A Key Factor in the Business Decision Making
Analytics is a key competitive resource for many companies. According to the 'Analytics Advantage' survey overseen, ninety six percent of respondents feel that analytics will become more important to their organizations in the next three years. This is because there is a huge amount of data that is not being used. About 49%  percent of the respondents strongly believe that analytics is a key factor in better decision-making capabilities. Another sixteen percent like it for its superior key strategic initiatives.
4. Data Analytics is Used Everywhere.
There is a huge demand for Big Data Analytics. The tremendous growth is also due to the varied domain across which Analytics is being utilized. The image below represents the job opportunities across various domains.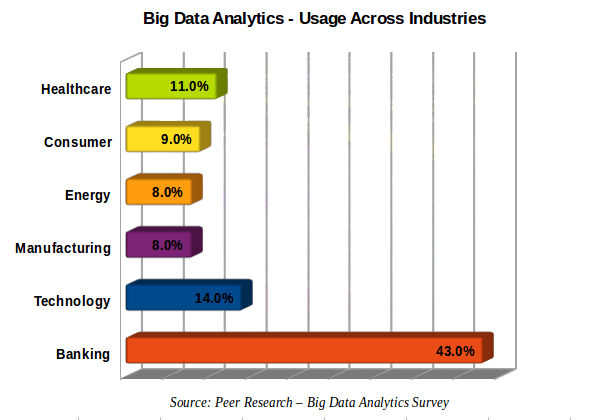 5.Salary Aspects:
Strong demand for Data Analytics skills is boosting the wages for qualified professionals and making Big Data pay big bucks for the right skill. This phenomenon is being seen globally where countries like Australia and the U.K are witnessing this 'Moolah Marathon'.
 Things you should know for a career in data analytics
1. You have to like working with numbers
Working data analytics makes use of two skills, One, statistics and two, telling a story with those statistics in a simple way and in simple words.
If you are going to be a data analyst, you must know how to use statistical techniques accurately. You have to like and be good at working with numbers. You have to be able to see data like a mystery or puzzle, and think. Then you apply your math skills to find clues and eventually solve that mystery.
But that's only half the story. Jobs in data analytics focus not only on the numbers but also on how we communicate insight, Howe says. "You're turning data and statistics into a story that can influence others. That story probably has to be told in pictures, because that's the way we internalize information quickly."
2.You have to know how to code, but you don't have to know computer science
You should learn to code, for reproducibility so others can build on what you've done. If you can't write down a program that does what you are doing, "you're left with two choices: teach others how to do it or keep doing it yourself forever."
3.Communication skills are (almost) as important as math
You may have the technical chops to handle data analytics but to approach the customer you should be good in communication skills. So please focus on improving the communication skills also.
What computer languages and other software tools are most likely to be useful for a data analyst?
SQL is essential — it's the standard language for data manipulation. Other useful options:
Python. "Pick a graphing library in Python and get to where you're pretty good at it," May says, "and learn Pandas, the Python Data Analysis library."
R, a free software environment for statistical computing and graphics. "R is written specifically for data analytics and science.If you mostly deliver one-off answers that don't get put into production, R is OK, but If you're shipping code to production, R gets really tricky.
Hadoop, a collection of tools for processing large datasets, and Spark, a fast and general cluster computing system for big data.
Cloud-native and desktop analytics platforms, such as Looker, Tableau, and Microsoft Power BI.
Excel.  The problem with Excel, though, is that it guarantees that you are doing the analysis manually, using your mouse and keyboard. That's not a recipe for creating reproducible results. Most analytics isn't doing one-offs, but doing things over and over again, and you always want to do them in the same way. The trick usually is to get that data out of Excel as quickly as possible and put it into a form more amenable to reproducible analysis."
Freelance Consultant
Big Data Analysts are also known as Big Data consultants who offer insights about key areas, including marketing and sales. As a consultant you would be responsible for the process from strategizing and analyses to visualization of various data coming from multiple sources. If you have a good grip with smart algorithms and adopt the latest Big Data technologies, you can act as a key person for multiple companies who will depend on your data insights when making important decisions.
Multi-industry/Domain Opportunities
With popular brands Software AG, Oracle Corporation, IBM, Microsoft, SAP, EMC, HP and Dell have invested more than $15 billion in software firms specializing in Data Management Analytics, increasing the demand for Information Management specialists across multiple industry and domain-types. Big Data Analytics attain cost-effective solutions and improve decision-making power in multiple development areas, including healthcare, manufacturing, education, media, retail, and even real estate. You will have an opportunity to select from a variety of industries that match your skills and interests.
Youtube Video
Conclusion
Learning the skills you need to get a job in data analytics won't happen in a month — depending on your background and goals, expect to spend a year or more. But if you have a mathematical mindset and no fear of coding, becoming a data analyst should be within your reach.
All the best!